Musical theater is a powerful and popular form of stage performance. Last week I attended performances with music by Stephen Sondheim—a full musical production and an afternoon of his songs from various musical theater works. Many of us experience an emotional reaction to the music created by Sondheim. There's a fundamental, inspiring humanness in his work.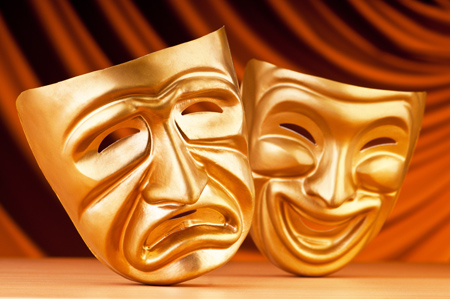 Connecting with one another through our emotions is a part of our innermost fundamental nature as human beings. Our emotions move us and awaken our bodies, brains, and minds. It's clear that Sondheim is a master of human connections—of relationship complexities and all sorts of things going wrong. It's exciting to experience the heightened emotions of various dramatic situations he achieves through his musical masterpieces.
Work is what you do for others, liebchen. Art is what you do for yourself.
~ Stephen Sondheim, Sunday in the Park with George
Emotions can exert an incredibly powerful force on our behavior. Sondheim's artistry often moves the audience and connects them deeply to the action and onstage dialog. Are there people in Sondheim's music who could be you, not in the details, but in their songs? We can all relate to finding happiness only to lose it, to seeking love or never knowing it, to dreaming and calling to mind the past. What art can you do for yourself?
[sws_checklist]
Move on and live in the present—Follies explores the dangers of living in the past.
Strive to forgive—Sweeney Todd traces the journey of an unjustly incarcerated man from someone who is trying to piece his life back together to a person who is slowly becoming a vicious murderer.
Think about balance in your life—Sunday in the Park with George explores the person who gives up personal relationship, emotional connection and community.
Consider the importance of community—the characters from Into the Woods learn about the pitfalls of greed and gluttony and the need to take responsibility and work together.
Keep in mind your values—in reverse order, a man in Merrily We Roll Along has lost the idealistic values of his youth and a future filled with promise to become a miserable and unhappy adult.
[/sws_checklist]
While some might argue that music is simply made from the mathematical arrangement of sounds, it is in fact a much more complex and intimate form of artistic expression. Composers and performers delve deeply into the feeling of their expression and often communicate with universality well beyond words and language.
I prefer neurotic people. I like to hear rumblings beneath the surface.
~ Stephen Sondheim
We love the characters Sondheim brings to life through his music. From the Into the Woods witch to the razor-wielding madman unjustly imprisoned and tortured by the loss of his love in Sweeney Todd to the fictionalized Georges Seurat immersed in single-minded concentration while painting his masterpiece in Sunday in the Park with George—they're human. As an artist, Sondheim is able see and feel and bring forth the essence of the spirit of each character. They seem real— like people in our own experience. We gain an understanding of who they are and how they make the choices they make.
Sondheim determines what shape a song will take once he knows the character and the context within the story. He, in a sense, "goes inside" the character and the situation to communicate more effectively with his audience. In order to use this artistic mastery through the power of emotions in our own lives, let's "go inside" and sing our songs; let's consider what we can learn, acknowledge and connect with our feelings, and develop our stories. Let's "do art" for ourselves.
— Pat